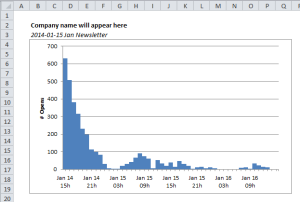 See the number of email opens by hour for the critical first 3 days of your campaigns. Select from any of the most recent 50 emails sent with a convenient drop-down selector. Analytics Edge does all the work, downloading the details and rearranging the data for easy charting.
Use the workbook as-is, or modify it to suit your specific needs; Analytics Edge makes it easy!
Automatic refresh is made possible in seconds from inside your spreadsheet using the Constant Contact connector. Download your free trial today!
Requires: Analytics Edge  Core Add-in or App with Constant Contact connector
Download the workbook: ConstantContact-3DaysOpens-2-0.xlsx