Core Add-in, Google Analytics Connector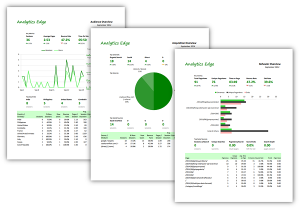 This free Analytics Edge report demonstrates the capabilities of the Analytics Edge Core Add-in to fully automate monthly reporting. It supports multiple Google Analytics accounts, exports to Adobe PDF format and sends the file via email to named recipients.
Using a simple setup worksheet, you enter the Google Analytics login to use, the view ID, a descriptive name, and the recipient's email address. If you enter more rows of values, Analytics Edge will process each row in turn, sending PDF versions of the report to the email addresses entered.
Download the workbook: GoogleAnalytics-MonthlyPDFReport-3-0.xlsx
Read the companion blog article : Advanced Techniques: the Monthly PDF Report