Search Engine Optimization is a changing market. It's not about keywords, it's about topics and long-tail in aggregate. This free report summarizes your website's appearance in search, showing the distribution of the # of keywords, impressions and clicks by position.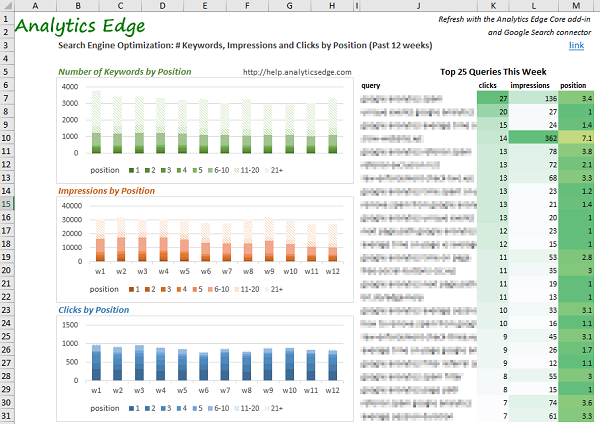 The included Analytics Edge macro downloads the last 12 weeks worth of Google Search Analytics data and extracts the data, excluding your branded search terms if desired.
Download the workbook: GoogleSearch-SEOSummaryReport-2-0.xlsx
Requires: Analytics Edge Core Add-in with Google Search connector
v2.0 Updated to display counts for position 1 at the bottom of the charts, and added counts for position 21+ at the top.
Configuration: Enter your account and website on the Data worksheet in the highlighted cells, enter any brand terms to be excluded on the Brand Terms worksheet. Click Refresh All.