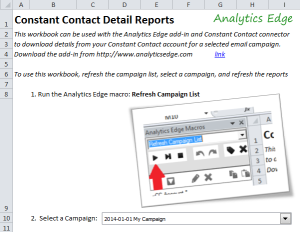 Get the detailed opens, clicks by email, links clicked, forwards, bounces and opt-outs for a selected Constant Contact email campaign. Analytics Edge does all the work, downloading the details directly into Excel worksheets for you.
Use the workbook to feed your reports, or modify it to suit your specific needs; Analytics Edge makes it easy!
Automatic refresh is made possible in seconds from inside Excel using the Analytics Edge Core Add-in with the Constant Contact Connector. Download your free trial today!
Download the workbook: ConstantContactDetailReports-1-4.xlsx