How can I help? Email: support@analyticsedge.com
New 'Mode' options on the ribbon:
interactive – execute a query or function just once (not refreshable)
Quick Query – execute a single (refreshable) query that writes to the selected cell
AE Macro – automate multiple query and analysis steps without formulas or coding
Quick Start: 1. Add Your Accounts
Each connector is a little different, but most require that you add an account before you can make a query.
See the connector help documents for details.
Google Analytics | Google Search | Google AdWords | Bing Ads | Facebook Ads | Facebook Insights
Quick Start: 2. Quick Query
Select the cell where you want your query results
On the Analytics Edge ribbon, select the Mode 'Quick Query'
Select Free Google Analytics > Analytics Report or pick another connector function
Select a standard report or pick the desired options in the connector wizard.
Click Finish to run the query.
[Premium License] In the popup Quick Functions wizard, click the Write to Workbook button.
Repeat the operations above to place other queries in your workbook.
Build a report of your own, here's some general guidance and a free sample to get you started fast: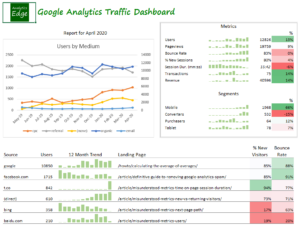 Video Example: Using the Google Analytics Connector
Add an Account with the Account Wizard.
Select the target worksheet cell.
Make your query.
Follow a similar process for other connectors: Google Search, Facebook Page Insights, Bing Webmaster Connector, Moz Connector
---
The More You Know, The Easier It Gets
Welcome to Analytics Edge
Analytics Edge makes it easy to get your data into Microsoft Excel. You can place multiple queries anywhere in your workbook as this video explains.
Help Resources Available
The Analytics Edge help site has plenty of resources available for learning and assistance with reporting. This video explains what is available and highlights the 'account not found' problem people experience when sharing workbooks.
Reproducing Standard Reports
This video reviews the common problems that people have when trying to reproduce standard web reports in Microsoft Excel using Analytics Edge.
Creating Custom Reports
Analytics Edge was designed to create the customized reports people need for their website or campaign tracking needs. This video explains the common errors you may run across and what you can do about them.
Licenses and Updates
This video explains how Analytics Edge products are licensed and updated. It demonstrates how to identify updates available and how to install them.