Analytics Edge Core Add-in Installation
Download and install the Core Add-in from the Download page.
If you experience problems with the installer, see the Manual Installation guide.
Activation
On the Analytics Edge ribbon, click the Register button
Accept the Terms of Use
The add-in should self-activate and is ready for use
Purchased a Core Add-in License Key?
Open the Register/License wizard, select the Premium license option, enter the license key, then click Activate.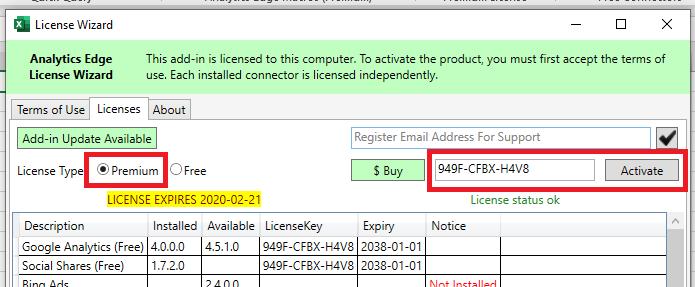 How can I help? The Premium license includes confidential email support, even during evaluation. Email: support@analyticsedge.com
Operation – Quick Query
Select a cell for your query results.
From the Analytics Edge ribbon, select Free Google Analytics > Analytics Report or pick an other connector function
If you have not yet added an account, a browser window should pop up and prompt to login. Close the browser window when instructed and return to the application.
Assign a Reference Name to the account just added. Reference names are saved in the workbook; account security tokens are saved on your computer.
Select a standard report or pick desired options in the connector wizard. Click Finish to run the query.
In the popup Functions wizard, click the Write to Workbook button.
Using the Google Analytics Connector
Select the target worksheet cell.
Add an Account with the Account Wizard.
Make your query.
Using the Google Search Connector
Select the target worksheet cell.
Add an Account with the Account Wizard.
Make your query.
Follow a similar process for other connectors.
More videos:
Facebook Page Insights, Bing Webmaster Connector, Moz Connector
Adding Connectors
Analytics Edge installs the Free Google Analytics connector by default, but you can install and use any of the premium Analytics Edge connectors for free for 30 days. Simply open the License wizard from the Analytics Edge ribbon bar to see the connectors available, click on the one(s) you want, and click Install. More->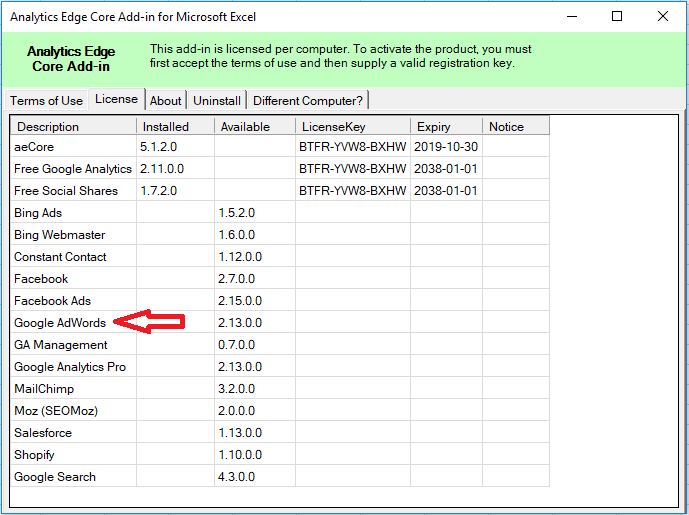 Add Your Accounts
Each connector is a little different, but almost all require that you add an account before you can make a query.  See the connector help documents for details.
Google Analytics | Google Search | Google AdWords | Bing Ads | Facebook Ads | Facebook Insights