How can I help? Email: support@analyticsedge.com
New 'Mode' options on the ribbon:
interactive – execute a query or function just once (not refreshable)
Quick Query – execute a single (refreshable) query that writes to the selected cell
AE Macro – automate multiple query and analysis steps without formulas or coding
Quick Queries Walkthrough (Version 10.6+)
See notable moments list below the video.
Notable moments in the video:
0:00 – Open the License wizard and enable the Premium (Core) Features
0:15 – Open the Free Google Analytics wizard then Add Account
0:22 – Log into the account you use for Google Analytics
0:24 – Make sure to check/enable ALL permissions requested!
0:31 – For privacy, you can change the name used to reference this account
0:40 – Start a Google Analytics Reporting query
0:46 – You can set a specific view as your default for future queries
0:53 – Just write the results of the query to the worksheet as-is
0:58 – Select a different destination cell, and start another query
1:04 – Start with a pre-defined report, then modify it to your needs
1:07 – Change the fields in the query
1:12 – Change the date range
1:18 – Only keep the top 10 results
1:24 – The Quick Functions wizard provides additional capabilities
1:28 – The green (temporary) worksheet shows what would be written to Excel if you click the Write to Worksheet button
1:30 – You can pivot the results…
1:43 – …and re-arrange the columns…
1:54 – …and change the sorting…
2:01 – …before Writing to the Worksheet.
2:08 – You can copy a query by copying the comment in the top-left cell.
2:11 – Then edit the copy to change the dates.
2:25 – You can also move a query by moving the comment in the top-left cell.
2:36 – All queries can be refreshed by clicking Refresh All.
Interactive Functions Walkthrough (v10.6)
Notable moments in the video:
0:00 – Set Interactive mode; functions available
0:13 – Use Group function to add Mobile column (Yes if iOS or Android)
0:37 – Overwrite the original data
0:42 – Reselect the top-left cell of the range to be processed
0:46 – Combine Duplicates by operating system
0:56 – Write the results to a different cell on the same worksheet
1:09 – Reselect the top-left cell of the range to be processed
1:11 – Pivot browser vs operating system (sessions)
1:23 – Write the results to a new worksheet (named Pivot)
Analytics Edge Macro Walkthrough
This video shows an older version of the add-in, and it is over 12 minutes long, but it shows the entire process to create a custom report with Google Search Console data using the Analytics Edge Core Add-in. See how easy it is to work step-by-step using simple wizards to produce a report combining multiple queries and unique calculations.
See this article for a description of the steps taken in the video.
The More You Know, The Easier It Gets
Build a report of your own, here's some general guidance and some free samples to get you started fast: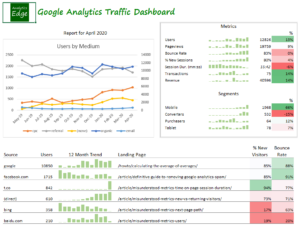 Building a Marketing Dashboard
Welcome to Analytics Edge
Analytics Edge makes it easy to get your data into Microsoft Excel. You can place multiple queries anywhere in your workbook as this video explains.
Help Resources Available
The Analytics Edge help site has plenty of resources available for learning and assistance with reporting. This video explains what is available and highlights the 'account not found' problem people experience when sharing workbooks.
Reproducing Standard Reports
This video reviews the common problems that people have when trying to reproduce standard web reports in Microsoft Excel using Analytics Edge.
Creating Custom Reports
Analytics Edge was designed to create the customized reports people need for their website or campaign tracking needs. This video explains the common errors you may run across and what you can do about them.
Licenses and Updates
This video explains how Analytics Edge products are licensed and updated. It demonstrates how to identify updates available and how to install them.