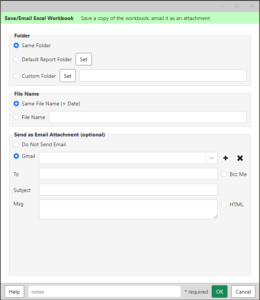 This wizard lets you save an Excel workbook copy or your report, and optionally email it to someone. Email options include SMTP email or Google Gmail.

Folder
Same Folder – save the workbook file in the same folder as the original.
Default Report Folder – click the Set button to establish a default report folder that can be used in multiple reports. This allows you to keep copies of all your reports in one place.
Custom Folder – click the Set button to select a folder for this one report, or enter it manually in the space provided.
Filename
Same File Name (+ Date) – save the workbook copy to the same name as the original workbook, but with a date.
Filename – save the workbook to a specific filename. Note that the copy will have the same extension as the original (xlsx, xlsb, xlsm, etc).
Append Date – optionally adds the current date to the file name. This allows you to use a custom file name that includes a current date component without editing the function each time. Optionally change the format codes for the date. See Date Format Codes for details.
Send as Email Attachment
Do not send – do not send the saved workbook file via email.
Gmail – select the Google account to use or click the '+' button to login to a different account. Note that the Google accounts can be managed in the Accounts page.
To – enter the email addresses to send the attachment to. Optionally blind copy yourself by checking the Bcc me box.
Subject – subject line for the email
Msg – body text of the message. If you want to use HTML formatting, check the HTML box.