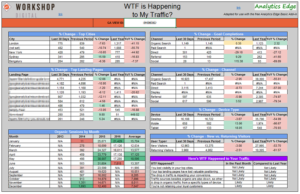 Joe Kelly of Workshop Digital created this custom dashboard to easily analyze what is causing organic search traffic to decline, and I adapted it to work with the free license of the Analytics Edge Core Add-in. Just enter your Google Analytics view ID number and refresh.
The dashboard will help you see:
If you're losing organic visibility in a specific city where you previously dominated
If there's a high probability that top landing pages lost valuable organic positions
If the drop in organic traffic is impacting conversion metrics
If other traffic sources are down, which can help identify the impact of other marketing channels
If the drop in traffic is specific to a device type
Read the original Workshop Digital blog article with a Google Sheets version.
Requires: Analytics Edge Core Add-in (free license) with Google Analytics connector
Download the workbook: GoogleAnalytics-WTFIsHappeningToMyTrafficDashboard-3-0.xlsx