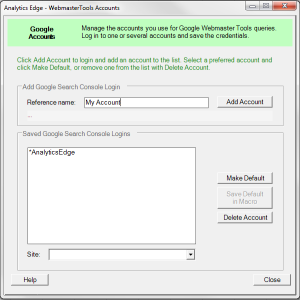 This Analytics Edge wizard is used to establish Google login accounts that can be used by the various queries.
Optional Double-Login This connector has access to both the NEW Search Analytics API and the OLD Webmaster Tools CSV Downloads (until about Oct 20, 2015). If you want to access both sources, you will need to login TWICE — once using a login dialog, and the second time by entering your account and password.
Manual Login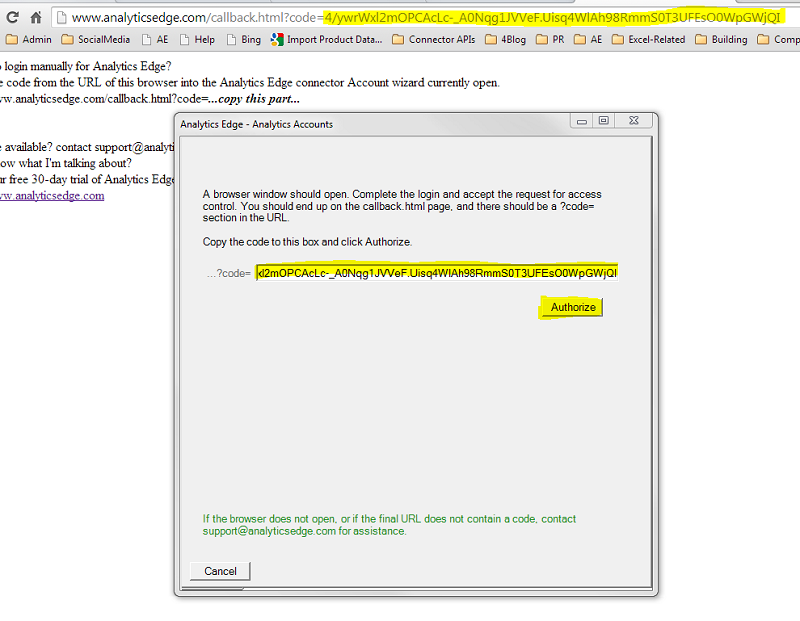 If you experience a problem with the login, such as second-factor authentication failure, click the Manual link in the upper right corner of the dialog. A new browser window will open. Login to your Google account and Accept the access request. You will be taken to a web page on the Analytics Edge web site, and there should be a code in the URL of the browser. Copy the code part of the URL, close the browser, and paste the code into the dialog box provided.
Old Webmaster Tools Queries
If you want access to the OLD Webmaster Tools CSV Downloads, then your account MUST have the Less Secure Apps option enabled. This second login is OPTIONAL, but the old Webmaster Tools Query wizard will not run without it.