Use this wizard to log in to your Google Analytics account and authorize Analytics Edge to access your data. [Updated for the latest release of the connector 2019-10-18]To add an account, click the Add Account button. A browser window should open for you to login to your Google account. After logging in, return to the app and enter a Reference Name.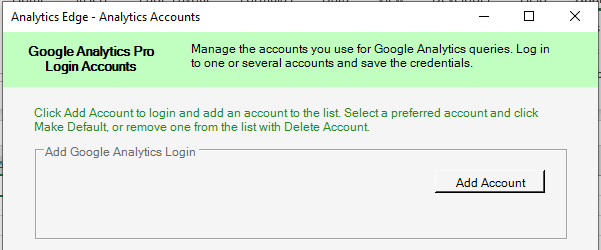 Multiple accounts can be stored, and you can change which account gets used by default. If your reports contains multiple queries, you can select different accounts to use for each query.
Select an account from the list, select a web property and view, and click Make Default to set that view to use as default for that login.
If you experience permission problems with one of your account, you can try to refresh the stored security token by selecting the account in the list and clicking Refresh Login.
MANUAL LOGIN
If you experience a problem with the browser window not opening automatically, you can manually copy the URL from the dialog and paste it into your browser. When you complete the login, the dialog should automatically change after a few seconds to allow you to enter a Reference Name.