The Analytics Edge Bing Ads Connector provides access to all the reports available from the Bing Ads API. When you open the Reports wizard, you will see a number of tabs, the first of which is Reports.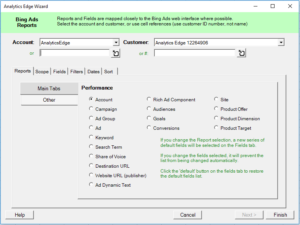 The Reports tab organizes the available reports in a similar fashion to the Bing Ads web interface, and consists of side tabs and selection buttons.
Down the left hand side, you will see some side tabs that group reports. When you select a report, the default Fields will be automatically selected on the other tab. You can modify those selections if you want.