This wizard is used to authorize Constant Contact login accounts to be used by the various queries.
One account can be designated as the Default account, and is identified by an asterisk (*).
Constant Contact Account Authorization
From the Analytics Edge ribbon menu, select the Constant Contact – Accounts menu.
Enter a reference name to identify this account, and click the Add Account button. Reference names can be anything, but should be a clear reminder of the account itself.
Log in to your Constant Contact account and click the Log In button.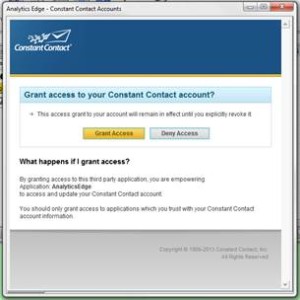 Click the Grant Access button on the confirmation screen.
Select the account you just created in the list and click the Make Default button.