Core Add-in or Basic Add-in, Moz Connector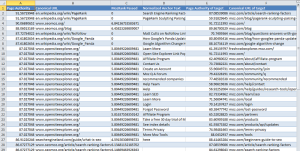 See how much 'link juice' you are getting from your inbound links with this simple Analytics Edge report. It works with both free and paid Moz accounts, retrieving the Moz Page Authority and MozRank Passed metrics for inbound links to the web page you enter.
Use it for competitive analysis, or just to see what those inbound links to your own site are really worth to you.
Download the workbook: Moz-inbound-links-1-0.xlsx
This report can be refreshed with either the Analytics Core Add-in, or Analytics Edge Basic Add-in, in combination with the Analytics Edge Connector for Moz.