The old Basic/Free add-in license is no longer available for new installations. If we can tell you have been using the product preJuly 2023, here is a fix — but it will work only with a file supplied by support, it will work once, and only on one computer.  Contact support for your file if you qualify.
Open the License wizard, go to the About Tab, click the Debug button. Copy the installation folder.
CLOSE EXCEL
Open the Windows File Explorer, go to that folder (paste the path into the address bar);
Open the file sent to you from support and copy the 3 lines. Paste them into the aeLicense.config file (it is a text file that can be open with Windows Notepad). Save and close the file.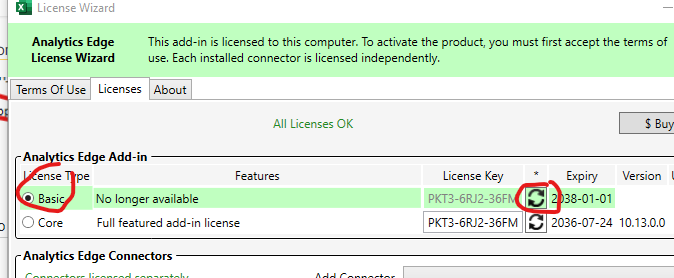 Start Excel, open the License wizard, select the Basic/Free license type and click the Refresh button on that line.
That should restore operation as before.