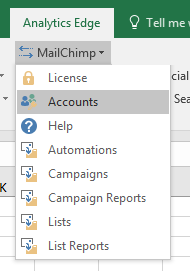 The MailChimp Connector for Analytics Edge makes it easy to download your MailChimp campaign and list information into Microsoft Excel.
Start by opening the Accounts wizard to establish an Account to use.
API KEY is required if you want to use the Bulk Export function. Where to find it.
NOTE: v3.0 of the connector uses a completely new authentication mechanism. If you used v2.x, you MUST replace all of your existing accounts with new entries (delete the old, add a new one).