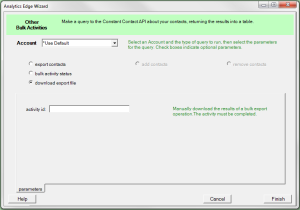 Use this wizard to download the results of a delayed bulk export operation.
Constant Contact bulk export requests are "batch" operations – they are submitted and you need to wait for the report to run before you can download the results. This function will download the results of a completed operation.
Account – you can select a specific account, use the * Default account, or use an Excel cell reference (click the button provided)

.
Activity ID – enter the activity id (or Excel cell reference) of the completed bulk export activity. Use the Bulk Export Status function to get the activity id number.