How can I help? Email: support@analyticsedge.com
The Analytics Edge Desktop App is a standalone application that provides spreadsheet report automation to both Google Sheets and Excel files on Windows or MacOS computers.

The Analytics Edge Desktop App is a self-contained, stand-alone application, so it does not require Microsoft Excel or Google Sheets. It runs entirely on your computer, reading and writing Excel's XLSX files on your computer, or reading and writing to the Google Sheets API. The focus of the application is to automate the data retrieval and analysis, leaving the formatting and charting for Microsoft Excel or Google Sheets.
Activation
After installation, the Desktop App requires that you accept the Software License Agreement and Privacy Policy by entering your email address and clicking Accept. The email address will only be used to associate you with the computer licenses for support purposes.
Trial licenses will be automatically created. The application and each of the connectors are licensed separately, and the current license status can be viewed on the Licenses page.
SPECIAL INSTRUCTIONS DURING EARLY ACCESS
The Desktop App should automatically assign a trial license for itself, but you may need to open the License page and click Activate buttons for each of the connectors you want to use.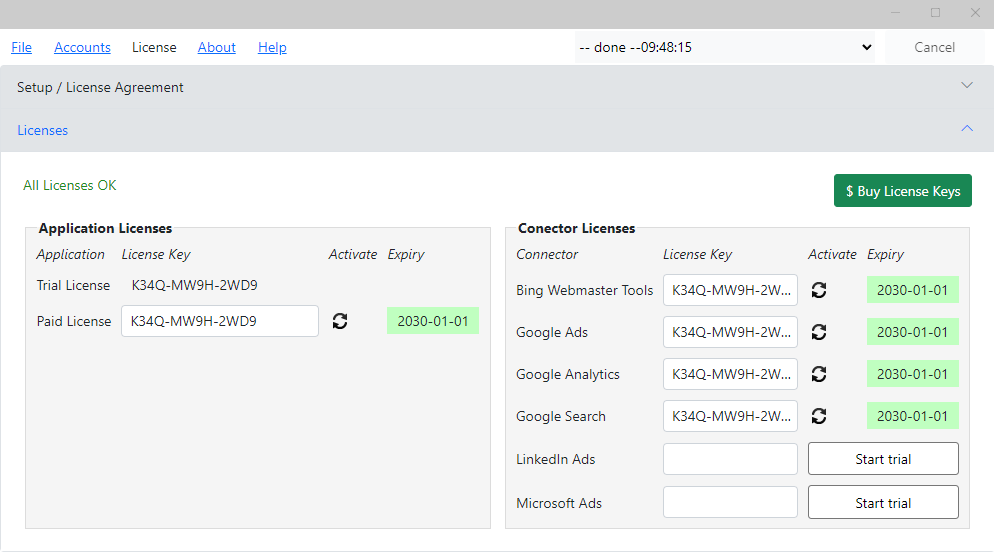 Opening Files
Existing Excel files can be opened from the File menu > Open Excel File. Browse to the file location and open the file.

For Google Sheets, go to the File menu > Open Google Sheets tab. Click the Account '+' icon to add a new account, and after a successful login, you can navigate your Google Drive to locate the Google Sheets file to open.
A Special Note About Account Logins
With any login in the App, you may be presented with optional items — ALL of these optional items must be checked for the Desktop App to function properly. In all cases, you are authorizing the application installed on your computer, and the resulting security tokens are saved, strongly encrypted, on your computer as well; they are never shared with or accessible by Analytics Edge Inc (the company) or its servers.