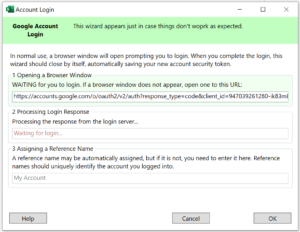 This wizard is not seen in normal use. During a normal login sequence, a new browser window will open in front of it requesting you to login to your Google account. After you login, this wizard will close automatically.
If the browser window does not open automatically, copy the link from section 1 into a browser and log into the Google account you want to use (send by Gmail, or read/write to Google Sheets).
When you complete your login, the wizard should switch to section 2 and process the response from the server. Assuming a successful login and no processing problems, the wizard will switch to section 3.
If the wizard can auto-detect your email address, it will save a security token using your email address and the wizard will close automatically. If it cannot detect your email address, then you will need to enter a reference name for the account — use a unique identifier, then click OK to save and close the wizard.
Updated for v8.2.