This Analytics Edge wizard lets you make a query for Google Search Analytics data.
Account – pick the Login account to use.(set by the Accounts wizard).
Site – pick the website you want to report on.
Dimensions – select the dimensions you want in your results. Note that date cannot be combined with any other dimension.
Metrics – all metrics are always included and the results are always sorted in order they appear. You can change the order of the metrics by dragging them in the list. Note that queries by date are always sorted by date.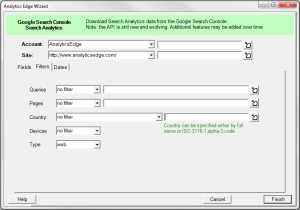 Filter – enter or select the filtering options you want with this query. They can include any combination of:
Queries that contain certain phrases
Pages with certain terms in them
Country
Device type (desktop/mobile/tablet)
Type of query (web/image/video)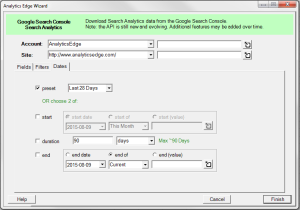 Dates – pick a date range for the query. Note that you are limited to about the last 90 days, and there is no data for the most recent couple of days. The range will be adjusted automatically if data is not available for the dates you request.
The Google Search Analytics API is still undergoing development and new features/capabilities may be added over time.
The query will currently return all available rows, which could be as many as 5000 or less depending on the dimensions selected.