Delete Account Credentials
Individual login account information can be removed from each connector using the Accounts wizard in the connector itself.
Note: Analytics Edge does not store any account or query information on its servers. It exists only on your computer.
If you forget this step, see the last section on deleting configuration files.
Uninstall Connectors
Basic Add-in: Individual connectors can be removed by opening the License wizard for the connector and clicking the Uninstall button.
Core Add-in: individual connectors can be remove by opening the Manage Connectors wizard, selecting the connector and clicking Uninstall.
Note: You need to restart Excel to complete the removal. If you upgraded a connector, you may have to repeat the process to remove the previous versions as well.
Uninstall the Add-in
To remove just the add-in without affecting any of the connectors, saved login configuration, or licensing information, then go to Windows Control Panel; Uninstall a Program; select the Analytics Edge add-in from the list; and click Uninstall.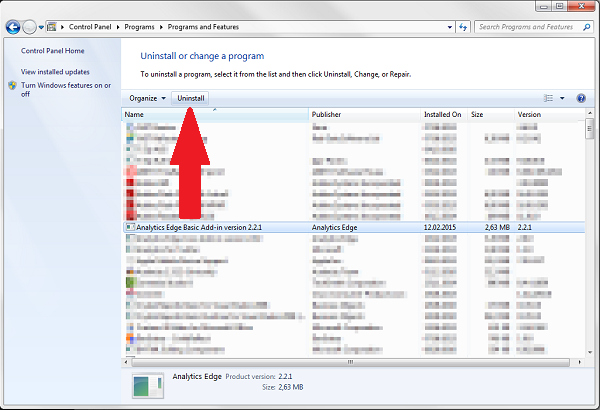 Remove All Remaining Configuration and Connector Files
If you want to remove absolutely all traces of Analytics Edge from your computer, including all licensing and user account configuration files, uninstall the Add-in as above, then locate the installation folder on your computer:
C:\Users\<AccountName>\AppData\Roaming\Microsoft\AddIns
Note that this folder may be hidden, depending on your settings. The easiest way to find it is to type into the Search programs and files box: %appdata%\Microsoft\Addins and press Enter.

Delete all files and folders that start with "ae" or "AnalyticsEdge" [Uninstall the Addin as above BEFORE you do this].
That will remove every trace of Analytics Edge from your computer. Note that trial periods will not be affected even if you do this. If you want an extension to a trial period, contact support.