If you want the personalized spam filter service for your web site, you need to:
Pay here:   fastspring.com
Give me access to your Google Analytics Account (as follows)
Granting Access to Your Google Analytics Account
Do NOT send me your account and password! Instead, follow these simple steps:
log into Google Analytics
select the

Admin

section
select the Google Analytics ACCOUNT to be filtered
click User Management in the left (ACCOUNT) column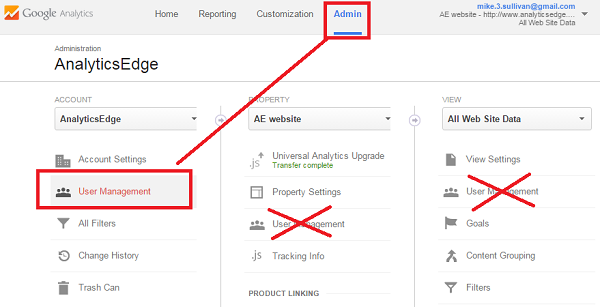 Add permissions for: [email protected]

(note this is different from the image)

Select Edit in the list of access permissions
Check the box to Notify this user by email
Click Add
If you have multiple websites in your Account, please send me an email identifying which ONE property/website you want me to process: [email protected]
What Will Happen Next
After payment and proper access is granted. I will:
analyze your site
add 2 new Views (unfiltered and test) if needed
install spam filters into the test view
send you an email explaining what I found, what filters I installed
send you a new Custom Segment that you can use immediately with your reports
After a week, I will confirm that the new filters are working properly in the test view, and if there are no issues, I will apply them to your main website view.
At any time, you are free to ask any questions you want about what has been done.