Core Add-in, Google Analytics Connector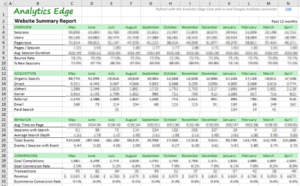 This quick overview report shows all the key performance metrics for the past year in a single tabular view. All the overview, acquisition, behavior and conversion metrics you expect in a quick summary report.
Everything is automated; just Refresh All with the Analytics Edge Core Add-in. Easy to modify and rebrand – make it your own!
Download the workbook: GoogleAnalytics-Summary-Report-1-0.xlsx