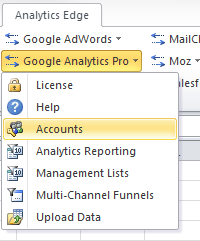 The Analytics Edge connector for Google Analytics comes in 2 variants: Free and Pro. They share the same account and configuration files, so it is possible to switch between them or to start with the Free version and upgrade to the Pro without having to rebuild your reports.
Before you can make a query, you must log in through the Accounts wizard.
The Free version has some amazing capabilities, but it cannot do some things. The Pro version can also:
perform multi-view queries
access the Management Lists
access Multi-Channel Funnel data
Upload data
Save Filters
has full support of custom dimensions and metrics
can access the extra custom dimensions and metric available to GA Premium users
[youtube]https://youtu.be/km_NJTJhvdY[/youtube]
Configuration – Accounts
Before you can use the connector, you MUST log in to a valid a Google Analytics identity. Both connectors support multiple logins, and you can mix queries from different logins in the same workbook. One of the logins is designated as a Default, and is identified with an asterisk (*).
Select Accounts from the connector's menu to open the Accounts wizard.
Enter a Reference Name for the account and click the Add Account button. You will step through a Google Analytics login sequence to authorize Analytics Edge to access your account. *
Select your login in the list, then pick an Account/Property/View combination and click the Make Default button.
* A note about security: your account credentials are stored, strongly encrypted, in a file on your computer and are sent direct to Google's servers using an encrypted https link. Your credentials are not stored in your workbooks, making them safe to share. Analytics Edge (the company) has no access to your account information.
Configuration – Purchased License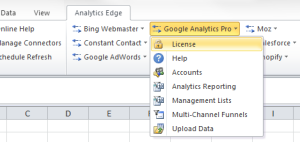 The connector will automatically register. The Pro version will operate free for 30 days, after which time a license must be purchased.
To enter a license code, select License from the connector's menu and enter your code.