If you have upgraded to the Analytics Edge Core Add-in, you can still emulate the behavior of the free Basic Add-in AND even produce compatible workbooks!  Quick and Easy!
Start just like you would with the Basic Add-in: select the cell where you want the results of a query to go. Then open the Free Google Analytics wizard "Analytics Reporting".
Automatic Macro Naming
With the Core Add-in, you are asked for a name for the macro you are about to create…do Not enter anything, just click OK!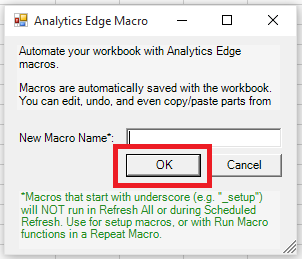 The macro will be named after the worksheet and cell you have selected [that is how the Basic Add-in works behind the scenes].
Create Your Query
The wizard will open and you can select the options for your query. Click Finish to run the query and display the results. Note that the Core Add-in creates a temporary worksheet to display your results — it doesn't commit them directly to a worksheet just yet. That would let you manipulate the data with the powerful analytics functions before dumping it to the worksheet. The Basic Add-in doesn't have any other functionality, so all it can do it dump to the worksheet at your selected cell.
Write to Current Cell
The Core Add-in can emulate this simple step by selecting File > Write to Current Cell.
And that's it! You have now created a Basic Add-in compatible query.
Two-Way Compatability
You can also run any workbook created by the Basic Add-in as well — just remember that if you change the macro name or the WriteToWorksheet function in any way, you can't go back to the Basic Add-in.