Get the list of available connectors by clicking the Manage Connectors button on the Analytics Edge ribbon bar in Excel.
The Manage Connectors wizard will open, showing a list of the currently installed and available connectors. If an upgrade is available, you will see both the version of the installed connector and the newest version available. To see details of a specific connector release, click the row in the listing.
To Install or Upgrade a Connector
Details about the current release will appear in the install wizard. The wizard will always show the most current release available. To install a new connector or upgrade to a new release, click the Install button. You will be notified that you need to restart Microsoft Excel for the changes to take effect. If you want to install other connectors, click the < Back button and repeat these steps. Restart Excel when you are done.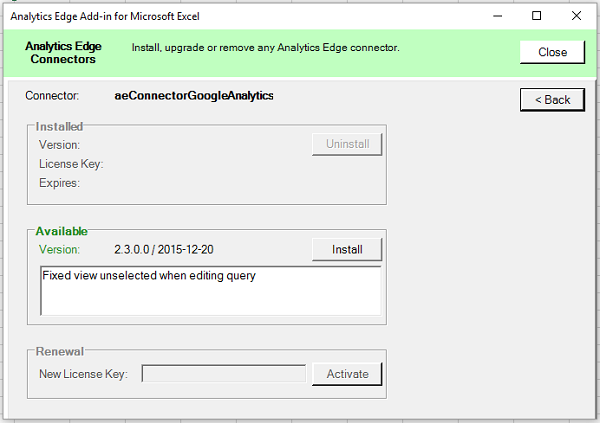 To License a Paid Connector
When you purchase license(s) for Analytics Edge products, you will be sent a license code for each product (the add-ins and connectors have separate licenses). To activate a connector license, you must open the Manage Connectors wizard and click into the connector, then enter the New License Key and click the Activate button. You should get a "License activated!" response.  Restart Excel to start using the new license.
Uninstall a Connector Release
To remove a connector, open the Manage Connectors wizard and click on the connector entry. Click the Uninstall button. Restart Excel for the change to take effect. Note that if you have upgraded a connector, when you restart Excel you will be asked if you want to delete all the older versions as well.